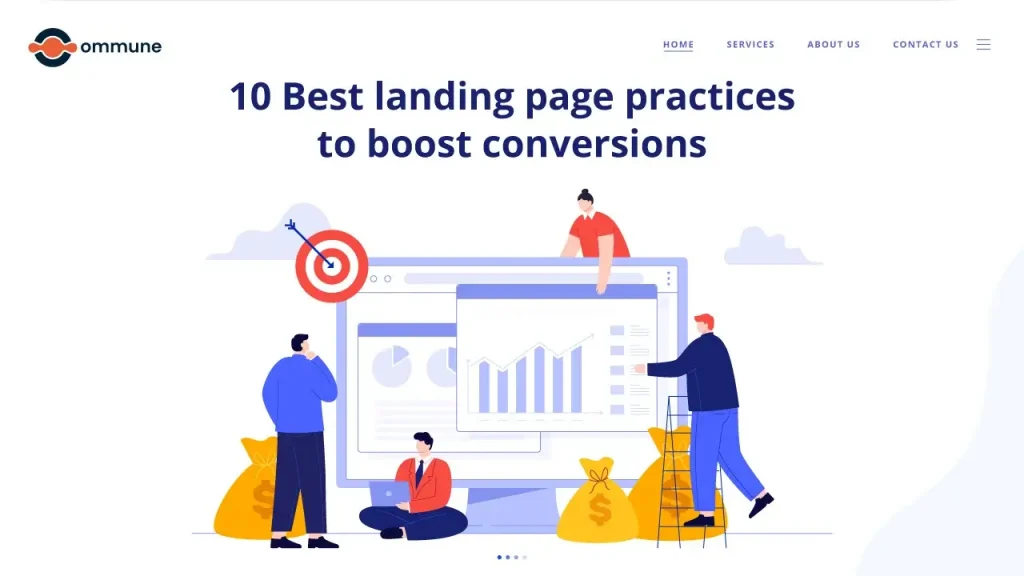 10 Best landing page practices to boost conversions
Designing a landing page can be an easy task. You don't have to be a developer or professional to do so. A landing page can be designed with a drag-and-drop page builder in just a couple of hours. It is one of the most important parts of the business. Without a good landing page, marketers would have a much harder time turning website visitors into leads and getting them to come back again. To keep you on track, we have shared the 10 best landing page practices to boost conversions.
What is the importance of the landing page?
A landing page enables us to redirect the page visitors to the targeted pages. Those targeted pages have the ability to get more leads than the other pages of your website. "Landing page practices" focus the visitor's attention on a particular offer or service. The main purpose of this page is to obtain more leads. From the visitor's point of view, they are on a landing page to get an offer by filling out the lead-generation form.
Every marketer should consider a few best landing page practices during page set-up and optimization.
10 Best landing page practices to consider
To give your business a better start, here are some best landing page practices that have been proven to boost conversion rates.
The message should be identical to the ads
When you are setting up the landing page, make sure that your message matches the visitor's expectations. Convince visitors they made the right choice by harmonizing the landing page's content and appearance with the ads they saw in search or on social media. The message should be convincing and clear. If you are running multiple ads, make sure you have variant pages to ensure the page messages match the ads.
Include all essential components to make it effective
Sometimes this landing page practices is also known as a lead-generation form or a lead-generating page. As we all know, the main aim of these pages is to convert visitors into leads by collecting information. So, to make it happen, it is important to include all essential elements on your landing page.
A headline that is clear and matches the message of the ad copy.

An easy-to-understand description of the offer puts an emphasis on its worth.

A minimum supporting image.

A lead generation form to get visitors' attention.

Supporting components like badges are optional.
Keep it small, but better
Many of us are aware of the phrase "less is more." It is good to keep things simple but clear. Apply this principle to your landing page. A long, descriptive page leads to distraction and confusion. In this case, you may lose the visitor's attention. When we talk about landing pages, make paragraphs as short as possible and use relative images only. Keeping things small and clear is another best landing page practice. 
Emphasize the offer's advantages
Use bullet points or short text to emphasize the advantages of the offer. It should be more than just a rundown of what is included in the offer. The best landing page practices emphasize descriptions that showcase the value of the offer, providing visitors with a persuasive reason to download. You can use ABC's specifications to determine how the company can increase productivity by 60%. The offer should be framed in terms of how it solves a problem, fulfills a need, or satisfies an interest shared by the target audience.
Remove navigation to avoid distraction
An ideal page should concentrate on a single objection, namely conversion goals. So, to minimize the distraction, avoid navigational links from your landing page that connect the user to other parts of your site, such as other calls to action or your homepage. A landing page becomes effective when it works alone. Therefore, removing navigation is one of the best landing page practices to get more conversions.
Include a social sharing option
Remember to include a social media sharing button that allows visitors to share your offer or content with their family and friends. Apart from social media sharing, add an email forward option, since people have different sharing preferences. Some people prefer to share through the mail, so email sharing will increase the possibility of getting more leads. Consider this suggestion as the most effective and best landing page practice.
Increase the number of landing pages to generate more leads
One of the best landing page practices is more landing pages means more leads. According to the latest marketing report, companies have experienced a 50% increase in leads when they work on building more landing pages, for example, expanding 10 pages to 15 pages. As a result, the message is straightforward: the more landing pages you create, the easier it will be to generate more leads.
When you have a greater number of pages on your website, it will appeal to different visitors as per their requirements.
If you want to add more landing pages, make sure to invest in appealing offers, change existing offers to target specific buyers, and use a landing page builder to reuse old content.
Seal the deal with authentic proofs
Most visitors to your site are likely to be too knowledgeable to be fooled by standard marketing jargon. Unless you have anything truly novel to say, they've heard it in the past. Even if you're convinced that your product or service is superior to your competitor's, testimonials from actual buyers and community members can lend the content more credibility.
Ensure that visitors' information is safe
Nowadays, people are more reluctant to give their personal information, and it's understandable because there are so many scammers out in the market. Luckily, there are a few things that you can add to your ad copy to protect the customer from anxiety.
You can add a privacy message stating that the visitor's information is safe and will not be shared or sold. The safety of visitors' personal information can be the best landing page practices. Assure the user that their sensitive information is safe and secure.
Make the lead form short
A long or tedious-looking form can discourage consumers from taking the time to fill it out. Change the design of the form to make it look shorter unless you need to add more fields.
In order to make the form appear shorter, you can do things like reduce the amount of space between fields or align the field titles to the left rather than above the field. You may appear to be asking for less information if the form takes up less space. Optimizing the lead form is one of the best landing page practices.
Conclusion
Optimizing the landing page is more difficult than designing a landing page. However, if you integrate the above-mentioned best landing page practices, you can make your page stand out. Your targeted audience feels compelled to download your content or proceed to the finish line. You have visitors, but if they are not converting into leads, even though you have a landing page. Begin these practices to convert visitors into leads, and then into customers. For further assistance in digital marketing web development, contact ommune.com.