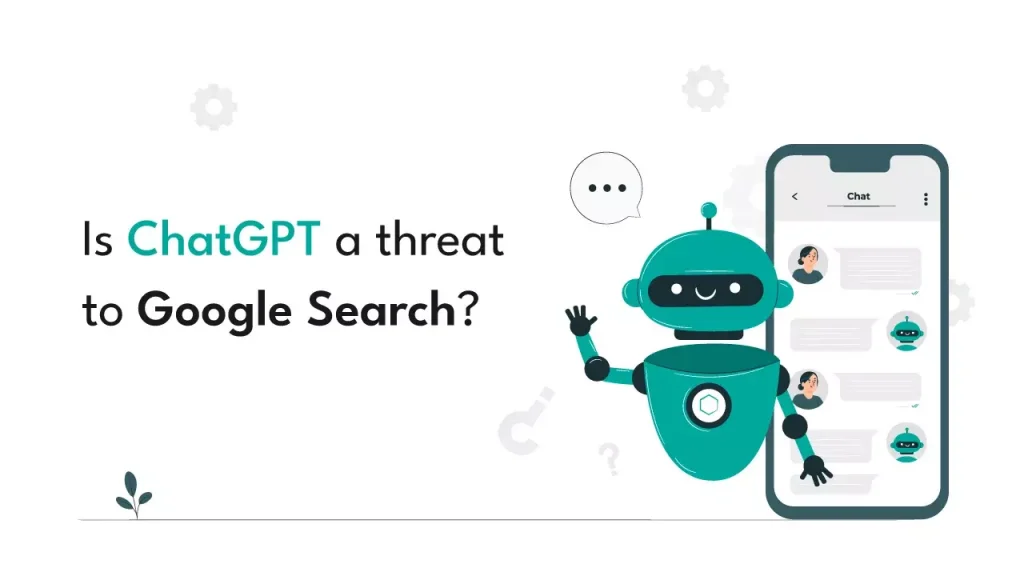 Is ChatGPT a threat to Google search?
What is GPT chat, and why is it so popular?
Chat GPT, also known as the "Generative Pre-trained Transformer," is an openAI chatbot used for writing essays, articles, social media content, and so on. It was released in November 2022 and gained 1 million users in the first five days. As everyone compares it to the Google search engine, it's natural for it to become trendy. The OpenAI ChatGPT model is a good way to generate language, but it does not directly compete with Google search. Why?
Read on to find out why chat GPT isn't a threat to Google.
What is the purpose of GPT chat?
Chat GPT is used to generate content based on your specifications. It's like having a personal assistant who can assist you in creating content for marketing purposes. There are flaws too but over a period of time, they might be resolved.
The following are the distinctions between Google's search engine and Chat GPT:
Google Search is a web search engine that may be used to look for information on many websites on the internet. It uses complicated algorithms to search through a huge index of web pages to find the best results for a user's search query. The results are ranked based on factors such as relevance, popularity, and the authority of the website. Google Search also includes other features such as image search, video search, and news search to help users find the information they need.
On the other hand, ChatGPT is a language generation model that can be utilised to produce content that appears to have been written by a human. Although it can assist with activities such as writing, conversing, and the creation of information, it is not intended to take the place of Google Search or any other search engine, as both of these work on different models.
However, depending on the applications and use cases that could be designed around ChatGPT and the data fed into it, it could be applied in certain areas, such as answering questions and providing information that one could find through a web search. As a result, it could be seen as a complementary tool rather than a replacement for the task at hand.
Is ChatGPT a threat to Google search?
According to our thorough research, we found that Chat GPT and Google are working on two different models.
Model:
OpenAI's ChatGPT is a language generation model that can simulate human speech and writing. The model can help with a variety of writing chores, as well as communication and content production, by generating language that makes sense. However, its primary purpose is to generate text, not search for information on the internet, so don't expect it to take the place of Google Search or any other search engine.
In fact, it could be viewed as a complement, producing consistent and comprehensive content to bolster the results of a search. Google searches for the given queries on a wide range of websites, letting the user link to the sources and judge how relevant they are. In OpenAI's chat GPT, however, nobody knows where the content comes from.
Speed:
However, LLMs also suffers from a slow inference speed. Tech giants like Google have developed a database architecture so efficiently and effectively that it can search through vast amounts of data and return millions of results in a fraction of a second. Some LLMs, like ChatGPT, need time to think about their replies.
Every time a user types in a query, a search engine doesn't have to look through every single document in its database. They use sophisticated indexing, sorting, and searching algorithms to quickly and accurately locate relevant data, where SEO plays a key role. So, even though the digital world has grown, the performance of search engines has not changed, even though they have become more reliable and handy for people.
In contrast, LLMs process data through the entire neural network whenever they are prompted to do so. It's true that a neural network is much smaller than a search engine's data warehouse. However, it still requires significantly more processing power than index queries. The inference operation can only be parallelized so much due to the nonlinear nature of deep neural networks. The LLM's model will need to get bigger as the training corpus expands so that it can continue to generalize effectively across the domain of its expertise.
According to the sources, if 8 million of data are searched per day, the chances are that data inaccuracy, irrelevancy, and speed will become major issues.
ChatGPT's model:
However, developing a sustainable business model for an LLM-based search engine is likely the greatest obstacle of all. Google's search engine has become the foundation of the company's vast advertising empire.
The business model behind Google Search is far from ideal. There is an increase in the number of ads that appear above the fold in SERPs, but you rarely click on them. With such a massive share of the online search market, Google can generate billions of dollars in annual revenue despite incredibly low click-through rates.
Based on user input, Google can tailor both search results and advertising. This improves the effectiveness and profitability of its operations. In addition to YouTube, Gmail, Chrome, and Android, Google offers a profusion of other services that enrich the user profiles it builds online. Its advertising reach includes the web and other platforms as well.
Google basically has a stranglehold on a market with two distinct sides: content providers and content consumers. It has created a self-reinforcing loop where the more market share it has, the more data it can collect, the better its search results will be, and the more relevant the ads it can show.
ChatGPT is an upcoming search engine, but it currently lacks a sustainable revenue model. Further, the price tag is quite hefty. With a million users, ChatGPT has a daily cost of about $100K and a monthly cost of about $3 million, according to a rough estimate.
Just think about what would happen if 8 billion people performed searches every day. Also, consider the time and effort expended during regular training to fine-tune the model using reinforcement learning and human feedback.
Training and maintaining a large language model (LLM) like ChatGPT is so expensive that only large tech companies with deep pockets will be able to afford to invest in its development.
How they could make money off?
Google is generating billions of dollars in business through paid ads run on websites based on PPC (pay-per-click). But for now, it's not clear what is the earning model of chat GPT  Alternatively, as it could be added to Microsoft Bing as a question-and-answer feature. However, this would make Bing the same as Google Search instead of giving the search industry a completely new system. 
Do you mean a search engine when you say ChatGPT?
Many people believe that ChatGPT will one day replace Google Search because it will become an all-knowing assistant that can provide an answer to any of your questions.
A question-answering AI system is a great asset, and it would be great if OpenAI could fix its issues, but that's not all that online search stands for. A search on Google has some flaws. There are a lot of ads that don't add any value. It also frequently produces a large number of irrelevant outcomes. However, it is a very useful resource. You can get reliable resources for your questions, but nobody knows what the source of the content is or whether the content is based on facts in GPT chat.
There are a few loopholes in both the Chat GPT and the Google search engine. But as we think about chat, GPT is a helpful tool that works simultaneously as an assistant for writing content and solving queries.