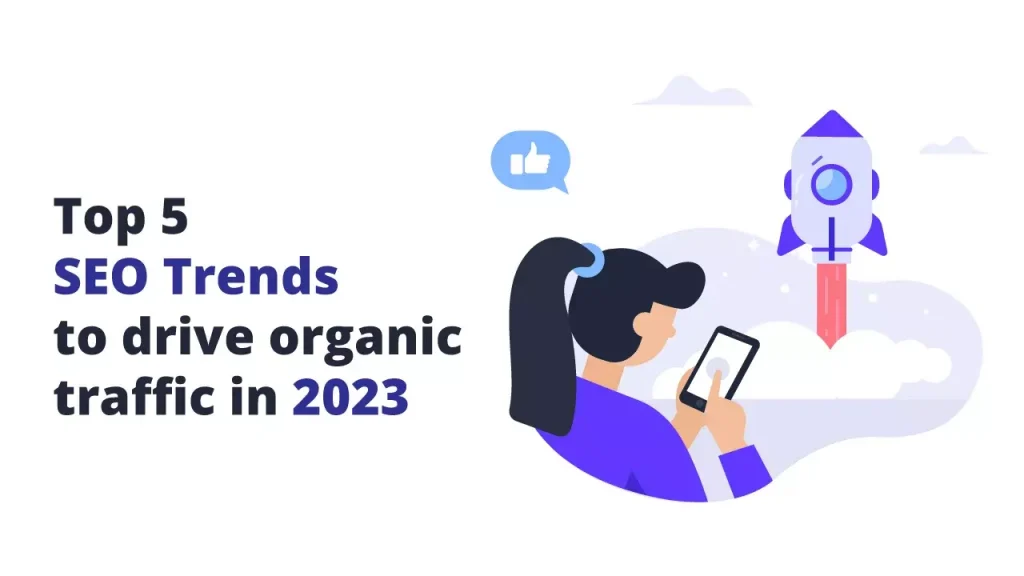 Top 10 SEO Trends To Drive Organic Traffic in 2023
Have you heard about SEO trends that drive organic traffic? Is there something you are still configuring the reason, why your website is not currently at the top of the search engine results page (SERP)? In-depth keyword research and search engine optimization are two of the most effective methods for attracting potential customers.
You can't deny the fact that you can't decode the algorithm of Google's system, no matter how experienced you are with SEO or how much you think you know about the subject. What is helping your rankings this time around may not work the following time. It's all a matter of tacit agreement at this point. Google is the most popular search engine (approximately 8.5 billion searches) and is closely followed by YouTube. 
What are SEO trends?
SEO trends refer to the evolving practices and techniques used to improve a website's search engine rankings. These trends are influenced by changes in search engine algorithms, user behavior, and technology. 
To what extent do these numbers represent the SEO trends that drive organic traffic?
Ranking on the first page of Google search results is crucial for attracting natural visitors. SEO trends that drive organic traffic come in handy at this point. To be fair, SEO trends are constantly changing. There are several SEO trends that can help drive organic traffic to your website:
Voice search optimization
With the increasing popularity of voice assistants like Siri and Alexa, optimizing for voice search is becoming more important. This means including long-tail keywords, natural language phrases, and natural language questions that people might use when speaking to a voice assistant.
Featured snippets
Featured snippets are short answers to a user's query that appear at the top of the search results. Optimizing your content to be selected as a featured snippet of SEO trends that drive organic traffic can help drive more traffic to your website.
Mobile Optimization
With more and more people accessing the internet on mobile devices, it's important to ensure that your website is mobile-friendly and optimized for smaller screens. 
Quality content
Google continues to emphasize the importance of high-quality, relevant content that provides value to the user. Quality content refers to information that is valuable, informative, and relevant to the user. It's an important aspect of SEO trends that drive organic traffic and can also help in building a strong relationship with the audience.
Creating quality content involves understanding your target audience and their needs, and then providing them with information that meets those needs. This can include blog posts, articles, videos, infographics, and more. For an effective content strategy, you have to plan accordingly.
Here are some characteristics of quality content:
Relevant:

The content should be relevant to the topic and audience. It should answer the user's questions and provide value.

Unique:

The content should be original and not plagiarised or copied from other sources.

Well-written:

The content should be well-written, with proper grammar and spelling.

Informative

: The content should provide useful information and insights that the audience can use.

Optimized:

The content should be optimized for search engines by using keywords, meta tags, and alt tags that are relevant to the content.

Engaging:

The content should be engaging, with a clear structure, headings, and formatting that make it easy to read.

Shareable:

The content should be shareable on social media platforms and have the potential to generate backlinks.
By creating quality content, you can improve your search engine rankings, increase website traffic, and build trust with your audience.
Influencers and backlinks
Building relationships with influencers in your industry can help drive more traffic to your website, as well as improve your search engine rankings.
Visual search
As the use of visual search technology increases, it's important to optimize your images and videos for search engines, so that they can be easily found by people looking for visual content.
Video content
YouTube and other video platforms are becoming more and more popular, and video content is often favored by search engines. So creating quality video content can help increase your organic traffic.
User experience
Search engines like Google are placing more importance on user experience as a ranking factor, so making sure your website loads quickly, is easy to navigate and provides a good user experience can help boost your organic traffic.
AI (artificial intelligence)
Artificial intelligence (AI) refers to the simulation of human intelligence in machines that are programmed to think and learn like humans. AI systems can be divided into two main categories: weak AI and strong AI.
Weak AI, also known as narrow AI, is designed to perform specific tasks, such as image recognition or language translation. These systems have been trained on a certain set of data and can only do the tasks they were made for. You can use AI for different purposes in your business. You can use Chat GPT to create content for your social media and other platforms. The drawback is that you have to optimize your content and have to do some changes as per your requirements
AI technology is used in a wide range of applications, including:
Robotics and automation

Machine learning

Natural Language Processing (NLP)

Computer vision

Expert systems

Self-driving cars

speech recognition
AI has the potential to revolutionize many industries, including healthcare, finance, and transportation, among others, but it also raises ethical concerns such as privacy and job displacement.
Local search Optimization:
Local search optimization (LSO) is the process of optimizing a website and its associated online properties (e.g., Google My Business listing, Yelp page, etc.) to rank higher in search engine results for geographic-specific queries. The goal of LSO is to increase visibility and drive more traffic to a physical storefront or service area.
Here are some key strategies for local search optimization:
Google My Business:

Having a complete and accurate Google My Business listing is crucial for local search visibility. This includes providing accurate information about your business, such as an address, phone number, hours of operation, and reviews.

On-page optimization:

Adding relevant location-based keywords to your website's meta tags, title tags, and content can help search engines figure out where your business is.

Citations:

Citations are mentions of your business on other websites, such as directories and review sites. Making sure that the information about your business is the same everywhere can help search engines find you.

Reviews:

Positive reviews from customers can help boost your search engine rankings, as well as build trust with potential customers.

Localized content:

Creating content that is specific to your local area, such as blog posts about local events or promotions, can help increase your visibility for local search queries.

Social Media:

Being on social media sites like Facebook and Twitter and interacting with your customers can help your business show up higher in local search results.

Google Maps:

optimizing your Google Maps listing by adding photos and encouraging reviews can boost your visibility in Google Maps search results.
By implementing these strategies, you can increase your visibility in local search results and drive more traffic to your business through these SEO trends.
Takeaway:
Some current SEO trends that drive organic traffic include creating high-quality, informative content that targets the right keywords, optimising website structure and navigation, building backlinks from reputable sources, and making sure the website is mobile-friendly and loads quickly. Additionally, focusing on user experience (UX) and incorporating schema markup can also improve organic traffic. It's also important to keep up with the latest changes search engines make to their algorithms and change your SEO strategy to match. 
If you're concerned about how to take advantage of the SEO trends that drive organic traffic and developments to increase sales and conversions for business expansion. Contact the digital media marketing experts at Ommune, our team will walk you through each of the many steps required to become a successful business leader.