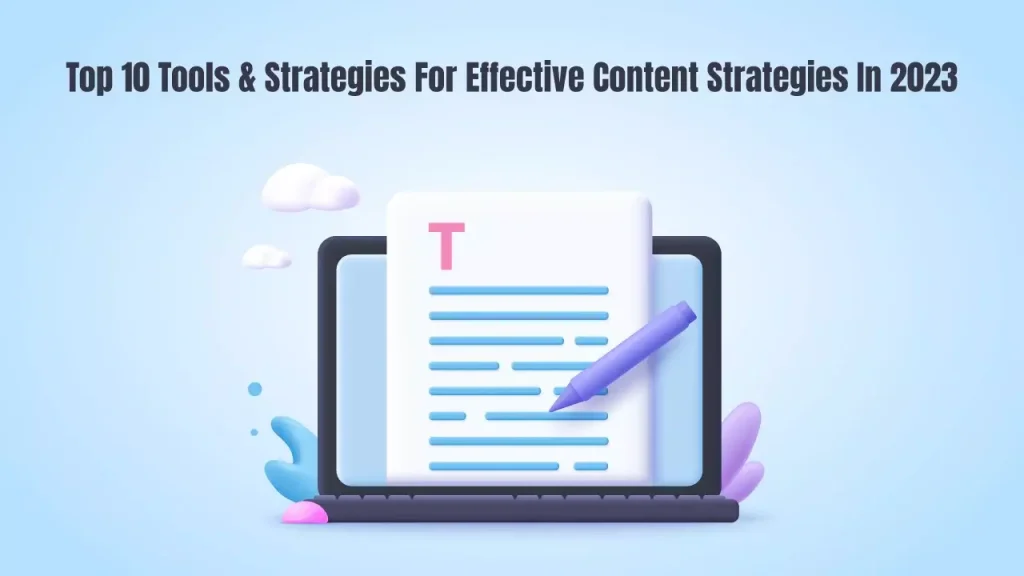 Top 10 Tools & Strategies For Effective Content Strategies In 2023
As the world is evolving digitally, new opportunities for growth are ticking around the clock. If you want your business to grow in this evolution, you need to plan and strategize your content. Studies show that effective content strategies can help a business grow in a more efficient or effective way. This means that content marketing could reach $417.9 billion by 2025. Tremendous opportunities can bring the business to the forefront. So let's start with the content strategy basics, and then we will tell you the top 10 tools you must use for effective marketing strategies.
What is "content strategy"?
Businesses need a content strategy that plans the creation, production, and distribution of content that directly meets the needs of their target audience. This will help them build brand awareness and attract more customers.
Blogs, social media sites, and everything else needs their own content strategies that work well.

Success in business can be achieved by implementing a well-thought-out content strategy.
What is the significance of an effective content strategies?
With effective content strategies in place, you can better explain your marketing goals and priorities. Planning your work in advance and making sure your marketing is focused on the right things is much easier with this tool. Making sure your team's hard work pays off requires a well-defined content strategy. Google's algorithm supports boosting original content, and the chances are high to get ranked on the top pages of search engine result pages (SERPs).
What are the tools for effective content strategies?
You might be aware of the importance of content marketing; if not, just spend some time and get into it. Content marketing is a growing market that is easy to master with the right tools and strategies.
Here are 10 tools for a content strategy that will help you plan and carry out your plans.
Google Keyword Planner
Google must be included in any discussion of effective content marketing platforms. Google has a lot of marketing tools that can have a big impact on your content strategy. Keyword Planner is one tool that can be used to research keywords. Google Analytics, Google Search Console, Google Trends, and other similar tools can show you how your content has done in the past. Plus, they don't cost a thing to use! The only thing you need to pay attention to is learning and knowing about these tools and how they work.
Semrush
Semrush is a search engine optimization (SEO) tool that can do a lot of different things, such as keyword research, keeping an eye on your competitors' keyword strategies, doing an SEO audit of your blog, and finding backlinking opportunities. Semrush is a global standard for internet marketing professionals. Many companies, both large and small, employ it as well.
Market Muse
Originally made to help manage large groups, Market Muse has changed into a platform for making content that marketing departments can use. Listening to your target market is a great way to find out what problems your product could solve. Building rapport between your company and its customers is possible through the use of in-depth surveys and questionnaires.
Customers' feedback can shed light on brand image, the buying process, and pain points.
Answer for the Public
As a beginner, you won't know what topics to write about, but you can easily find the topic for your content on Find questions people have regarding your issue on Answer the Public, and then create content to answer those questions. The featured snippets that display at the top of the search results page are known as "Quick Answers."
Quillbot
It is the best choice for academics, essayists, and writers because it can find relevant synonyms and improve your vocabulary while cutting your writing time in half. There is no need to acquire additional software due to its integrated functionality.
Grammarly
Compared to regular grammar and spelling checkers, Grammarly finds and fixes more writing mistakes. It explains what went wrong and how to correct it. Both the free and paid versions are efficient, quick, and simple. It's a must-have for any published author.
Event calendar
For marketers, such future content creation can be planned with the use of a calendar called an "event content calendar." The content calendar is useful for keeping tabs on when your team's blog posts, social media updates, or editorials are scheduled to go live.
Canva
Canva has a single platform for the whole process of making content, from coming up with ideas to designing, reviewing, and publishing. Canva gives your team access to tens of thousands of pre-made templates and a lot of premium features to make sure that all of your designs look and feel polished. There are tens of thousands of pre-made templates and a lot of premium features to make sure that all of your designs look and feel polished. There will be no more erratic updates, time wasted looking for stock photographs or design delays.
Hasten the process of producing content.
Easily make social media posts, presentations, blog headers, email assets, and more with the help of the drag-and-drop editor.
The premium content library in Canva has more than 100 million images, videos, audio files, and fonts that you can use.
Resize material for any format with time-saving design tools like Magic Resize and Background Remover.
Trello
When it comes to organizing and communicating with coworkers, Trello is invaluable. Organizational heaven, as seen on a screen, is Trello's Kanban boards. Each card can include an abundance of information, and you'll always know who is responsible for what.
SEO Writing Assistance
SEO Writing Assistant's smart editor makes sure that your work meets both criteria by suggesting changes and improvements as you go. The software works with Google Docs to give useful tips on how to improve readability and search engine optimization (SEO) based on what Google has found to be the most successful content.   
Conclusion:
A full-featured content management system is required when formulating a content management strategy or organising a string of online articles. In order to accommodate businesses of varying sizes, Optimizely provides scalable plans and services. By using these content management systems, you'll be able to learn more about the people you want to reach and create content that will turn them from passive viewers into active customers. If you want expert advice, you can connect with our team at Ommune.