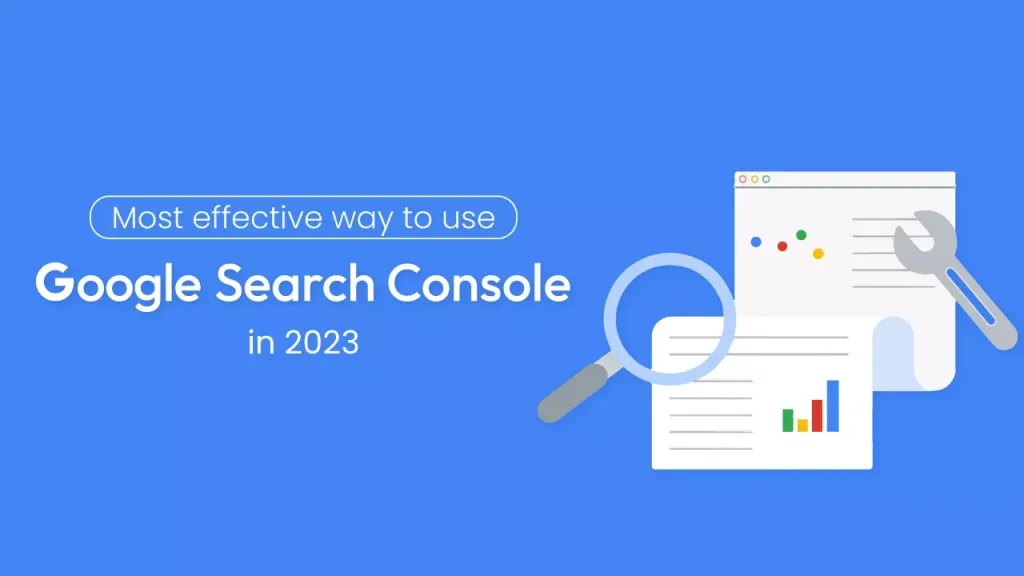 Most effective way to use Google Search Console for your online business's growth
Using the Google Search Console effectively requires knowledge of how to optimize your website for search engines. to analyze and track your SEO performance, you know how it has improved your site rankings, but if you are a newbie in the online segment and want to launch your online business and are seriously focused on its expansion and growth, you must consider the Google search console.  
In this article, we are going to discuss the Google search console, so stick with us until the end.
What is the Google Search Console?
Google Search Console is a platform that provides free access to track and analyzes the SEO performance of a website for owners, marketers, and SEO experts. You may have noticed that SERPs prioritize websites and pages that have been optimized for search engines. It's free, and it provides real-time SEO data.
How to use Google Search Console for your online business's growth?
If you are launching your online business or already have one, then you must be aware of digital marketing and its strategies. A good and appropriate strategy can earn your company huge profit margins, but the next question is "how to make that strategy profitable".
Google's Search Console platform helps and guides marketers, business owners, and SEO experts on "how they can elevate their SEO strategy" to optimize their pages and website for crawling and indexing by providing insights. 
With the help of these insights, you can track and analyze your performance and take the necessary steps to perform better which can give a boost to the expansion and growth of your business.
How do I use Google Search Console to improve SEO?
SEO (search engine optimization) is an important and integral part of digital marketing and its strategies. From Google's point of view, a page or a website can be at the top of the search engine results page if it meets its criteria, like original and good content with a better client retention rate.
Considerable steps to improve SEO through Google Search Console include:
Check whether your web pages are being crawled and indexed properly.

Analyze backlinks; they must be of good quality to rank and improve results in SERPs.

Do thorough research on keywords, content creation, click-through rate, organic traffic, etc.

Check your site's search performance across the globe.

Keep tracking and analyzing the performance of websites that increase and decrease.

Keep track of your impressions and click-through rate over time.

Examine your highest organic traffic retention time, as well as queries.

Keep a close eye on mobile usability.

Track the anchor links and external links on the websites and pages you have linked.

Resolve the amp errors, if any.
How to add your website to the Google search console?
Sign in from your Google business

account.

Click on Google Webmaster Tools.

Go to "add a property."

A drop-down menu appears to choose the website. Enter the website's URL.

Click on the Continue button.

Select to verify your website's ownership.

Add HTTP:// and HTTPS:// if your site supports both.
Now Google starts tracking your site as you add it to Google Search Console.
Difference between Google Search Console and Google Analytics
You can track your site's activity and rankings in Google search engine algorithm by using Google Search Console. You can find out more about your visitors by using Google Analytics, such as who they are and how they found your site.
Google Analytics keeps track of a lot of different metrics, but most users only care about a few important ones.
The "bounce rate" of a website is the number of first-time visitors who don't look at any other pages before leaving.

In Google Analytics,

all views on your website are counted as page views, regardless of frequency.

Normalized session length:

This is the typical amount of time users spend on your site.

Conversion:

For Google Analytics, a "conversion" is anything "critical to the success of your business."

The demographics reports

in Google Analytics can help you learn about your audience's age, gender, location, interests, and buying habits.
What Google's Search Console records about quantitative measures are more about your website than it is about your users. Here are some examples of notable metrics and measurements:
Impressions

: the total number of Google users who encountered your link.

Click-through rate (CTR)

: The click-through rate (CTR) measures the percentage of people who see your website in search engine results and actually click on it.

Searches with Particular Words

: The keywords for which your pages have a high PageRank are the focus of this metric (and what people search for to reach your page).

Quantity of inbound links

, or backlinks that lead back to your site

Mobile usability

is a measure of how well your website works on mobile devices.

Bots:

This set of metrics reveals how Google's bots navigate your site.

Status:

Average position in search engine results on the page (SERPs) Since 55.2% of Google users select one of the top three results, it's important to achieve a high ranking.
Effective ways to drive traffic through Google Search Console
You won't have a full picture of your site's health if you aren't using your Google Search Console account regularly.
If you want to increase your content's visibility in Google search results for a specific keyword, you need to know within a few days if Google has linked your content with that keyword.

Focus on SEO optimizing your content.

Keep a check that Google is crawling and indexing your website and web pages.

Fix the technical and amp errors.

Build your site authority with legit and good backlinks.

You should prioritize the pages you want Google to crawl so that the pages you want to rank highly in search results appear in search results as soon as possible and with as much relevant information as possible.

Use Google Search Console's in-depth tools for analyzing page performance and fixing user-experience issues.

By doing SEO split tests, you can quickly figure out which optimization works best and use it on other pages. 
Conclusion:
By reading this article you can underestimate the importance of Google search console and by using it you can heighten the business to new opportunities with growth and expansion. Using Google Search Console, you can determine which specific SEO testing optimizations actually lead to improved rankings and impressions. Then you can use the same optimizations on the rest of your site.
Also, Google Search Console's data is accurate and comprehensive in a way that no other tool can match. This makes it the best tool for testing the effectiveness of an SEO strategy and making changes to a website. 
If you want to learn more and grow your business you can reach us at Ommune.com.