Which reports indicate how traffic arrived at a website
Most of the new startup co-founders, who don't have technical backgrounds always ask us which reports indicate how traffic arrived at a website.

There are multiple ways to track the traffic but the most common report reports from Google Analytics.
Google Analytics is mostly used in ALL the websites that have professional webmasters to analyze their website traffic. These traffic reports are very useful in analyzing some very critical fields:
For which search key phrases you're getting the traffic on your website?

From which country you're getting most of the traffic?

On which pages of your website, you're getting the most traffic?

How quickly visitors are leaving your website (technically known as a

bounce rate

)

Exit pages of your website i.e from which pages most of the website visitors are leaving your website.

Session timings i.e. how much time your visitors are spending on which page of your website.
All these key metrics of your website can be easily taken from your Google Analytics account. 
To make it more effective, always use UTM link builder to build the links which you use for the digital marketing of your website. That will give us more clear data in your Google Analytics dashboard. 
You can visit this link to build links for your campaigns.
If you are new and don't know how to set up Google Analytics then let me quickly tell you. It's very simple. Just follow these steps as mentioned in Google Support forums.
After setting up Google Analytics, you need to ensure that the integration is working properly.
For that, you just open your website and in another tab, Google analytics. Under Realtime menu, in the Overview menu, you will see One as shown below screenshot: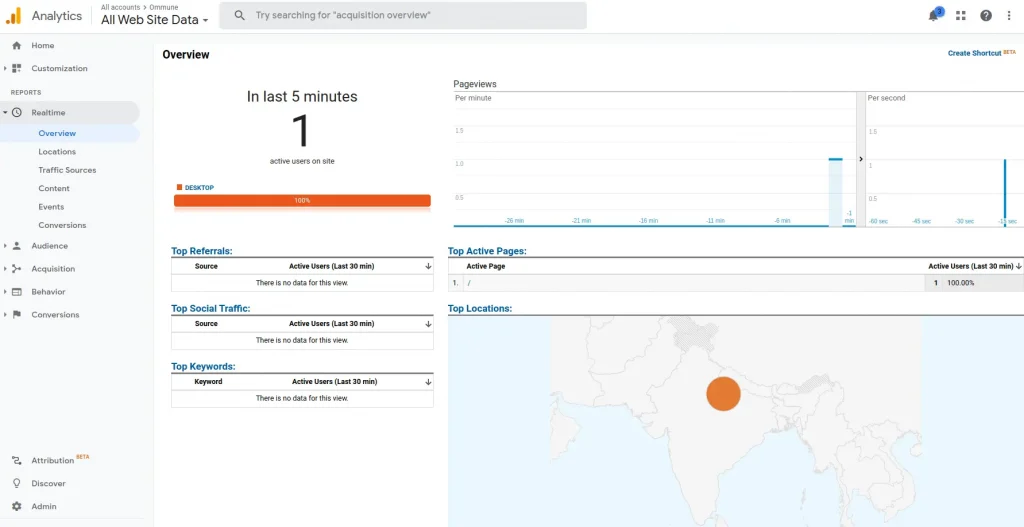 You should then integrate Google Search Console into your website as it's another super useful tool that gives you reports that indicate how traffic came to your website from Google search result pages known as SERP. 

Google Search Console Integration is very much easy. You just need to go to the Google Search Console website and just follow the steps. If you're a techie, you can verify your website using DNS settings by adding the test file in your hosting, or by adding an HTML tag to your website.  Once the domain is verified, you will start seeing the graphs, etc. from your Google search console as seen below of our client UnlistedZone.com, one of the leading unlisted shares brokers in India: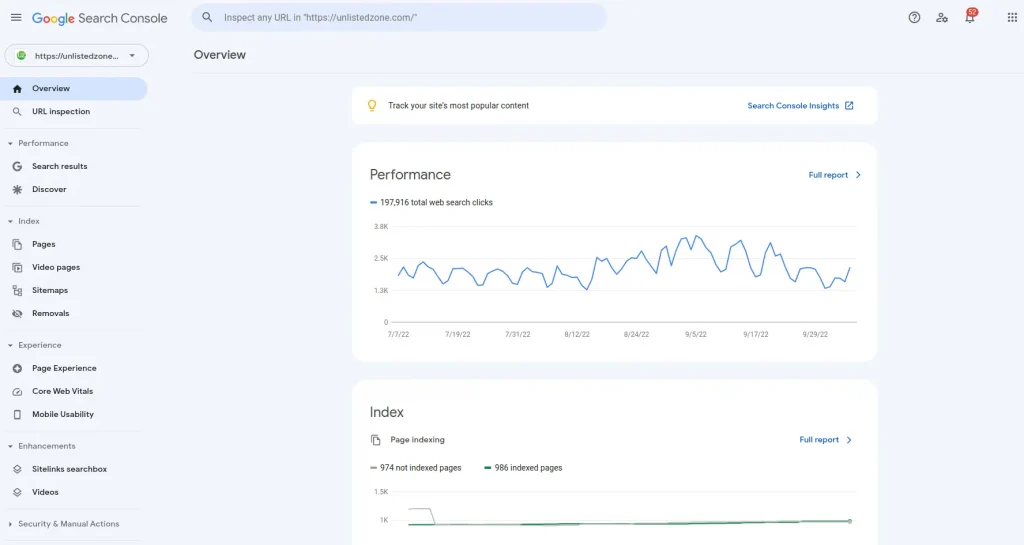 If you are facing any issues, you can hire a dedicated developer from our team to get this done. This won't take more than an hour of time and the cost won't be more than 100 USD.
After Integration of Google Analytics and Google Search Console, you will get enough data in respective dashboards to check where traffic is arriving at your website and what exactly they are looking for, etc.

What's next?

Capture low-hanging fruits. Start optimizing your website pages where impressions are more and clicks are less. For example, check the below screenshot.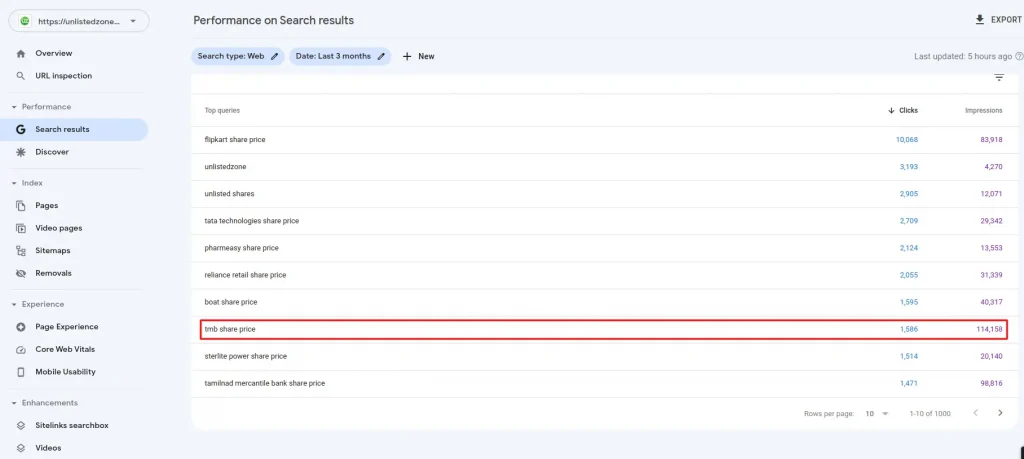 As you can see we can easily 10X the website traffic on this page.  In this way, you are going to maximize the organic traffic on your website by just tweaking a few things on your web page like adding 1 paragraph with 1-2 bold or italics forms of the keyphrase, etc. 
This is how we target and optimize the website traffic on our clients' websites. This is the best approach as results are very quick because your website is already ranking for that keyword in Google search results. And most of the clients want results quickly. So this is the best approach to start your SEO campaign for a new project or website. I hope now you have the answer of your question: Which reports indicate how traffic arrived at a website?
If you're looking for a long-term reliable SEO partner to take care of your business website, feel free to contact us because we have been known as one of the most honest and reliable SEO company in India.

We also provide website development, mobile development, digital marketing, etc services. Contact us to schedule a free consultation and let's explore the hidden opportunities in your current business!